<<

Schedule for Fri Oct 31, 2014 >>
Fri Oct 31, 2014
Class
Instructor

Workshops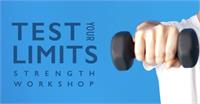 Men's Strength Workshop

with

Kenny

Holocher
Next held on Sat, Nov 22, 2014 at 11:00 am - 12:00 pm
This
enrollment
runs from Sat Nov 22, 2014 - Sat Nov 22, 2014
Test your limits! Whether you're brand new or already hooked on DEFINE's isometric approach for endurance and strength training, this workshop will show you how to meet your next level, both physically and mentally.
Kenny will take you through a series of strength building exercises in both the body and revolution rooms. Prepare to test your boundaries and push yourself to the max!
Cost: $25/ auto-renew discount applies
Specials and giveaways included!
Learn More
Join the DEFINE Oakley Facebook community

for news, events, and more about the studio and instructors.

Find Us >>
Announcements:
A Gift for DEFINE: Oakley Clients
Show your DEFINE: Oakley package or retail receipt and receive 10% off of any service at ALBA Beauty Studio or Cincy Style Bar. October only.
DEFINE kids
Our movement-based workshops for children, DEFINEkids, will have new hours beginning in October. Please check the schedule before making a reservation.
Free Friend Fridays
Bring a friend to class any Friday in October and they attend with you for FREE! One free visit per friend only.
Get Your Groupon
October is the last month to purchase our $99 Groupon deal! Click HERE for details.
Private Events
Did you know we offer the studio for private events and classes? Whether you're a bride or an executive, email oakley@definebody.com for more information.
Policy Changes
As of October 1, cancelations must be made 5 hours prior to class start time or a $10 cancelation fee will occur.
Please be mindful of your fellow classmates and instructors by arriving on time for class and not leaving before the class is complete. For your safety, clients will not be allowed in class once the door has been shut.
Got Feedback?
Do you have ideas for DEFINE: Oakley? We'd love to hear from you! Email oakley@definebody.com with your suggestions or complete a comment card in studio.