<<

Schedule for Tue Oct 6, 2015

>>
Tue Oct 6, 2015
Class
Instructor

Workshops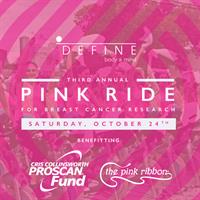 DEFINE Pink Ride

with

All

Instructors
Next held on Sat, Oct 24, 2015 at 11:30 am - 12:30 pm
This
enrollment
runs from Sat Oct 24, 2015 - Sat Oct 24, 2015
One day, six cities, thousands of lives touched. Join us for The DEFINE body & mind Annual Pink Ride, a multi-city event raising awareness and funds for breast cancer research.
We'll deck Oakley Square Park with hues of pink and rows of bikes for this 1-hour outdoor event benefitting The Cris Collinsworth Proscan Fund: The Pink Ribbon. Pedal, climb, sprint and jump to the sounds of a live DJ while multiple DEFINE instructors lead you in this ride for a cure. Afterwards, stay for a celebration with food and juice from Rooted Juicery & Kitchen.
Learn More
Thriller Ride

with

Monica

Hannan
Next held on Sat, Oct 31, 2015 at 9:00 am - 9:45 am
This
enrollment
runs from Sat Oct 31, 2015 - Sat Oct 31, 2015
"Let's dance, let's shout, shake your body down to the ground!"
Who's Bad? You'll be after a transforming ride to the King of Pop's greatest hits! Join us for a 45-minute full body workout on the bike to a Michael Jackson inspired playlist. Be a Smooth Criminal during sprints. Beat It during weights, and work up a Dirty Diana sweat. Don't Stop 'Til You Get Enough!
We wanna Rock with You so reserve your seat today. Space is limited-invite the Jermaine, Tito, and Janets of your life so You are Not Alone!
Michael Jackson inspired or Halloween costumes welcome but not required.
$20
free for current clients (sign-up in studio)
Learn More
Join the DEFINE Oakley Facebook community

for news, events, and more about the studio and instructors.

Find Us >>
Announcements:
DEFINE:Oakley App
Grab your smart phones and download our FREE studio app to help sign in, cancel class or buy packages in a jiffy!

DEFINE kids
We offer child care during the morning classes and can be found on the schedule under DEFINE kids.
Private Events
Did you know we offer in studio private events and classes? Whether you're a bride or an executive, email oakley@definebody.com for more information. A customized playlist, champagne toast…whatever you want we can do!
Client Feedback?
Do you have questions, comments or helpful tips for DEFINE: Oakley? We'd love to hear from you! Email oakley@definebody.com with your suggestions or complete a comment card in studio.

Inclement Weather
Follow us on Facebook, Twitter or Instagram to hear about class cancellations for when the polar vortex strikes this winter.