<<

Schedule for Fri Sep 4, 2015

>>
Fri Sep 4, 2015
Class
Instructor

Workshops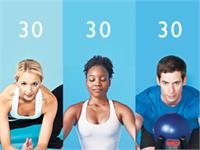 30.30.30 Workshop

with

All

Instructors
Next held on Sun, Sep 13, 2015 at 12:30 pm - 2:00 pm
This
enrollment
runs from Sun Sep 13, 2015 - Sun Sep 13, 2015
The 30.30.30 Experience
Whether new to the studio or a veteran client, get the ultimate DEFINE experience by taking all three of our signature transforming and re-energizing classes.
30 minutes of DEFINE body: this portion of the workshop combines Pilates, yoga, ballet, and core strengthening to target all the major muscle groups using small hand weights, a ballet barre, mat, and ball.
30 minutes of DEFINE mind: focused on gaining flexibility, refreshing the body, and calming the mind, this part of the workshop is set to relaxing music and will help melt away stress and relieve tightness in the muscles.
30 minutes of DEFINE revolution: our take on indoor cycling, this cardio blasting section incorporates choreographed movements to high-energy music on a stationary bike for a full body workout.
$20 for New Clients
$15 for Current Clients (sign up in studio)
Learn More
Join the DEFINE Oakley Facebook community

for news, events, and more about the studio and instructors.

Find Us >>
Announcements:
DEFINE:Oakley App

Grab your smart phones and download our FREE studio app to help sign in, cancel class or buy packages in a jiffy!


DEFINE kids
We offer child care during the morning classes and can be found on the schedule under DEFINE kids.
Private Events
Did you know we offer in studio private events and classes? Whether you're a bride or an executive, email oakley@definebody.com for more information. A customized playlist, champagne toast…whatever you want we can do!
Client Feedback?
Do you have questions, comments or helpful tips for DEFINE: Oakley? We'd love to hear from you! Email oakley@definebody.com with your suggestions or complete a comment card in studio.

Inclement Weather
Follow us on Facebook, Twitter or Instagram to hear about class cancellations for when the polar vortex strikes this winter.

Make DEFINE: Oakley your New Year's REVOLUTION!
Are you ready to find your best self in 2015? We have incredible monthly discounts for all packages. We also have adorable gift cards that make great stocking stuffers! Call the studio for more information 513-351-SPIN